Tattoo > Start Kit
A perfect start kit to boost your career as a tattoo artist
Are you looking to get started as tattoo artist? Well you have definitely come to the right place for boosting your career with tattoo supplies from us at Ashta Europe. We are offering a complete tattoo kit for beginners looking to kick start their career in the tattoo industry. There are a number of things you need to consider when buying your first kit, from getting a quality kit to ensuring all the device and products safely work on the person receiving that tattoo. Understanding exactly what's required by tattoo artist, we provide tattoo kits that comprises of a wide range of products that will make their journey an easier one.
At Ashta Europe we offer different variation of start tattoo kits which either comes with tips, or tattoo kits with grips, or tattoo kits with rotary machine or coil machine. Our standard start tattoo kit includes tattoo machines, power supplies, foot switch, clip board, tattoo inks, aluminium grips, needles, tips of varying sizes, practise materials, stencils, rubber bands, rubber nipples, ink cups, latex gloves to name a few. Our start kit is designed in a way that beginners can get all their supplies in one pack at a very competitive price for their use in the studio. We ensure that all the products offered to you under our start kit are of the good quality and products that can be safely used on your clients.
ATT! We reserve the right to exchange products that are out of stock with similar in your order!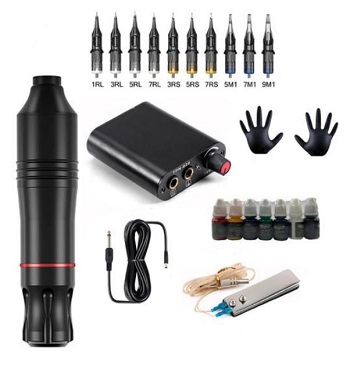 Art.nr: TSTK05
Tattoo Start Kit (Rotary)
Tattoo Start Kit includes:
1 pc Rotary Tattoo Machine
1 pc Power Supply
1 pc Foot Switch
1 pc RCA Clip Cord
10 pcs Tattoo Ink
10 pcs needles
Some Ink cups
Pair of latex gloves
Price:
160.00 €
(Excl. VAT)
BACK TO TOP