Eyelash Extensions > Glue
Eyelash extension glue supply
Eyelash extension Glue is an essential product that needs to be selected carefully. Since customers are our top priority, we at Ashta Europe ensure to source the best glues from reputed brands of the industry. We store waterproof glues as per industry standards. We consider it as our responsibility to ensure we are offering quality products that are safe to use on human eyes. Sourced from the best, eyelash extension glue offers different bonding performance, and known to last long. Highly used by professionals, we can also guarantee you that these products are safe and reliable for your customers.
Glues have an optimal shelf life of approx. 6-10 months. Hence, to prolong storage life we recommended our clients to keep the glue in a cool place like in a refrigerator. However, if the glue is stored in a refrigerator, wait about an hour before you use them for eyelash extension. The glue once opened will last for up to max 3-6 months. Here at our online store, you will come across a range of glues. Safe, durable and powerful as a bonding adhesive makes them the best choice for professionals to use for their eyelash extension glue procedures.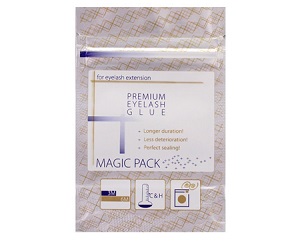 Art.nr: E-91
Magic Pack for Glue
Store your Glue in the Magic Pack.
The Magic Pack prevents the deterioration when the glues are exposed to air, so it makes the glue shelf-life longer. It also keeps the viscosity and the bonding power better for application. It is highly recommended to use the Magic Pack if you would like to get the best result.
After using the glues, remove the residue on the nozzle completely and put them into the Magic Pack with the desiccant.
Make sure to remove the air from the Magic Pack after you put the glue inside. Keep it in dry and cool place.
Price/1pcs
Price:
4.40 €
(Excl. VAT)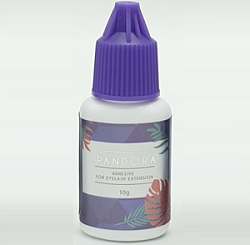 Art.nr: E-92
Clear eyelash / eyebrow glue
Clear type glue for eyebrow and eyelash extensions. It has suitable viscosity, flexible to apply extensions. Great bonding power and relatively low irritation. Good for professionals.
Volume 5g
Drying time 2 sec
Retention 6-7 weeks
Viscosity Low
Fume Moderate/Low
Color Clear
Price:
20.00 €
(Excl. VAT)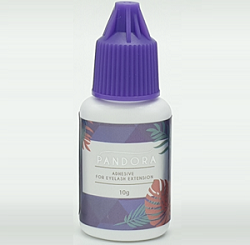 Art.nr: E-93
ULTRA Eyelash Extension Glue
ULTRA Eyelash Extension Glue
Glue for all types of eyelash extensions.
Ultra glue has perfect viscosity, low fumes relatively, super-fast dry speed. Remains elastic and lasts till 7 weeks.
Volume 5g, 10g
Drying time 2 sec
Retention 6-7 weeks
Viscosity Low
Fume Moderate/Low
Color Black
Skills For Professionals
Free from allergens and carcinogens.
Magic pack included
Option
Price/pcs
Qty.
1 pcs
10ml
30.00
5ml
17.00
BACK TO TOP