Skin & Body > Facial Kit
Facial Kit – everything you need for your daily skin care routine
Avail a fresh stock of quality facial kit for your daily skin care routine at Ashta Europe. Our facial kit product line includes gold spa facial kit, anti-aging facial value kit, chocolate facial mini kit to skin whitening facial mini kit, Veda oxy facial mini kit and even fruit facial mini kit to name a few.
You can now pamper your skin with our fabulous facial kit suitable for different skin types. Get rid of oily skin, give it freshness and nourishment with mini kits specifically formulated to improve skin texture and fair complexion. The facial kit that we offer online ensures that you have everything you need for complete skin care procedure. Browse through our inventory to find the professional grade facial kit here at great price, from the industry's best brands.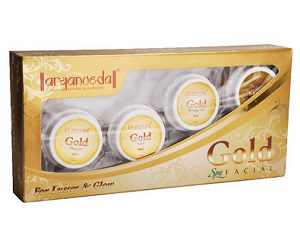 Art.nr: SFK01
GOLD Spa Facial Kit
GOLD Spa Facial Kit from Aryanveda. Complete solution for your skin. Kit includes 5 steps:
STEP 1: Ayurvedic Gold Cleanser is enriched with beneficial properties of Swarn Bhasma & blend of natural herbs like: Rose, Tea Tree, Doorva, Olive oil, Til oil. It helps to reduce blemishnes, dark spots due to hyperpigmentation.
STEP 2: Ayurvedic Gold Scrub is enriched with herbs: Gulb Jal, Tea tree oil, Doorva, Olive oil, Til oil, Swarn Bhasma. It helps to remove your dead skin cells and thus induces growth of new skin tissues naturally.
STEP 3: Ayurvedic Gold Massage Gel is fortified with Swarn Bhasma, Rose, Tea tree, Doorva, Olive oil, Til oil.
STEP 4: Ayurvedic Gold massage cream-enriched with Turmeric, Papaya, Ashoka, Tulsi and Chandan. It helps Skin tissue recover fast from daily wear and tear. Soothes skin and helps fade old scars & acne marks.
STEP 5: Ayurvedic Gold pack enriched with Swarn Bhasma and herbs like: Wheat, Cucumber, Ghritkumari Extract, Carrot seed oil.
Total: 510g
Note:
- Swarna Bhasma is a compound prepared by using pure gold.
- Doorva grass is loaded with a wide range of healthy nutrients.
Ayurveda Herbals is an ISO 9001:2000 certified company, engaged in the manufacturing of herbal cosmetics run by professionals with more than three decades of experience in the field of cosmetic and herbal products. In Technical association with Waves Laboratories Baltimore, USA.
Price:
48.00 €
(Excl. VAT)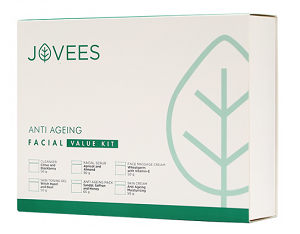 Art.nr: SFK02
Anti-Ageing Facial Value Kit
6 PRODUCTS - COMBO
Due to the loss of collagen the skin loses its elasticity thus wrinkles and fine lines start forming. Each product in this kit Contains high quality herbs botanicals that have the properties to help mitigate fine lines and wrinkles visible on the skin, skin looks younger and glowing. This Kit contains six products that should be used in order as indicated on the Package.
1. Citrus and Blackberry Cleanser (ingredients: Lemon extract, Rosemary essential oil, Sunflower oil, Blackberry, Coconut and Almond oil) 50g
2. Apricot and Almond Facial scrub (ingredients: Apricot Kernel oil, Almond oil, Wheat germ oil, Walnut shell powder) 50g
3. Wheat germ with Vitamin E face Massage Cream (ingredients: Wheat germ, Almond, Avocado, Vitamin-E) 50g
4. Witch Hazel and Basil Skin Toning Gel (Witch hazel, Aloe vera, Cucumber extr., Honey) 50g
5. Sandal, Saffron & Honey Anti-Aging Face mask (Sandal wood, Saffron, Honey, Almond) 65g
6. Almond and Ginseng Moisturising Anti-Aging skin cream (Almond, Ginseng, Olive, Alchimilla & Grape seed extract) 50g
Price:
50.80 €
(Excl. VAT)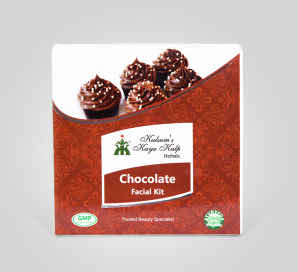 Art.nr: SFK03
Chocolate Facial Mini Kit
Kid includes:
1. Chocolate cleanser: a unique skin cleanser. Clear all impurities from the skin surface and retains its moisture balanced. 15g
2. Chocolate scrub: a mix of precious herbal ingredients. Especially developed for scars, freckles, blackheads and blemishes. Excellent for treatment of open pores and helps in reducing superfluous hair growth. It smoothens and beautifies the skin. 15g
3. Chocolate cream: ayurvedic concept enriched with almond oil to nourish the skin. It helps to rejuvenate inactive cells; helps reduce ageing signs and eave the skin vibrant and glowing. 15g
4. Chocolate pack: enriched with cocoa bean to make the skin healthy. It helps to rejuvenate skin cells, retains moisture and improves skin texture. 20g
• AYURDEDA- Eco Friendly
Price:
20.00 €
(Excl. VAT)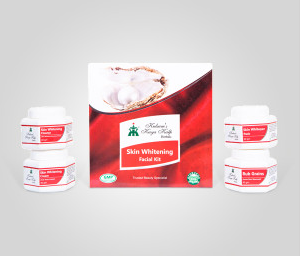 Art.nr: SFK04
Skin Whitening Facial Mini Kit
Kid includes:
1. Skin whitening Cleanser cream: Contains cactus extracts which acts as natural hydrant. It clears all impurities without disturbing moisture balance. This cleanser is also excellent for crack feet and dry elbows. 15g
2. S.W. RUBGRAINS (Rare Herbals Beauty Grains) Mix of precious herbal ingredients that helps to remove scars, freckles, black heads and blemishes. Excellent for treatment of open pores and helps in reducing superfluous hair growth. It smoothens and beautifies the skin. 15g
3. Skin whitening Cream: Enriched with Pearls, Almonds, Aloe Vera and Lotus extracts. This combination helps to rejuvenate the skin cells. 15g
4. Skin whitening Packnriched with Pearls, Sandal and wheat germ oil. Its anti-oxidant properties rejuvenate skin cells and make the skin glow with fairness. 20g
• AYURDEDA- Eco Friendly
Price:
24.00 €
(Excl. VAT)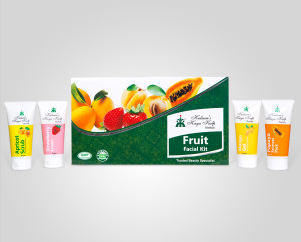 Art.nr: SFK05
Fruit Facial Mini Kit
Kulsum's Kaya Kalp Herbals Fruit Facial Kit is a special blend of vitaminised fruits with apricot, strawberry, mango & papaya. The special properties of these nourishing fruits impart natural skin glow, improved skin texture and fair complexion. It can be used for all skin types.
Kit includes:
1. Apricot scrub: a perfect blend of apricot shell and almond oil. It gently exfoliates to prevent blemishes and clean pores. Apricot, rich in Vitamin "A" make skin more nourished, fresh and beautiful. 15g
2. Strawberry Cream: a mix of precious
Ingredients. Especially developed for scars, freckles, blackheads and blemishes. Excellent for treatment of open pores and helps in reducing superfluous hair growth. It smoothens and beautifies the skin. 15g
3. Mango Gel: skin hydrating combination of Aloe Vera juice, Almond oil and Mango extracts. It rejuvenates dull and dehydrated skin making it soft and supple. 15g
4. Papaya fairness pack: nutritious blend of Papaya fruit extracts, wheat germ oil and Almond oil. This pack works to enrich the skin from within to give a healthy flawless glow that is secret for younger looking skin. 20g
• AYURDEDA- Eco Friendly
Price:
20.00 €
(Excl. VAT)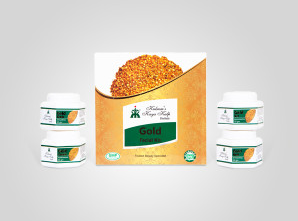 Art.nr: SFK06
Gold Facial Mini pack
Kit includes:
1. Gold scrub: this scrub is blended to perfection with almonds and 24 carat gold leaf, which gives warmth to skin and makes it soft. It helps to remove the dull and dead skin surface cells to reveal healthy radiant skin from within. 15g
2. Gold cream: this gem of Ayurvedic heritage is enriched with Almond oil and 24 carat gold leaf. Being rich in Vitamin E, it helps to rejuvenate dead cells and ageing ski. This cream works best at night while you sleep to repair the damage caused to your skin by pollution, dust and the sun during the day. 15g
3. Gold Gel: Enriched with Almond oil and 24 carat gold leaf. Being rich in Vitamin E, it helps to rejuvenate dead cells and ageing ski. This cream works best at night while you sleep to repair the damage caused to your skin by pollution, dust and the sun during the day. 15g
4. Gold Pack: Delicate blend of Aloe Vera, China Grass, Almond oil and 24 carat gold leaf, which gives warmth to skin and make it soft. It helps to remove the dull and dead skin surface cells to reveal healthy radiant skin from within. 20g
• AYURDEDA- Eco Friendly
Price:
30.00 €
(Excl. VAT)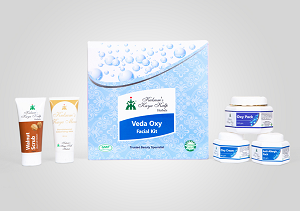 Art.nr: SFK07
Veda Oxy Facial Mini Kit
Kit includes:
1. Walnut scrub: Blend of walnut shell and wheat germ oil, it gently exfoliates dead skin cells to remove impurities and blackheads reviling the fresh, glowing skin underneath. Walnuts, rich in vitamin E, make the skin soft, fresh and radiant. 15g
2. Oxy cream: Provides nourishing oxygen moleculas to rejuvenate your skin. Oxy cream is additionally fortified with the richness of wheat germ and olive oil which are effective in preventing pimples, acne, and rashes. 15g
3. Oxy pack: Vitaminize rejuvenation pack enriched with the natural goodness of Aloe Vera, Wheat germ oil, Vitamin "E" and honey. Helps to control ageing effects and makes the skin texture even, smooth and firm while nourishing and providing instant glow. 20g
4. Anti-Allergic pack: Blended combination of precious herbs that promotes blood circulation and prevents pigmentation. Also effective in reducing dark circles and blemishes caused by scars. 20g
5. Moon cleanser: Light cleanser especially developed for oily skin. It deep cleanses pores and controls sebum build-up preventing acne, rashes and pimples. 30ml
• AYURDEDA- Eco Friendly
Price:
24.00 €
(Excl. VAT)
BACK TO TOP