Pain control > UNIQUE Liquid for Permanent Makeup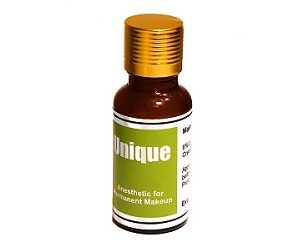 Art.nr: PAN17
UNIQUE Liquid for Permanent Makeup
USED IN PERMANET MAKEUP AND TATTOO.
USE BEFORE OPERATION PROCESS AND DURING
PROCEDURE
Directions:
Disinfect the skin.
Expand the lips (other area) with your fingers; apply the UNIQUE Liquid with cotton swab.
Repeatedly wipe the area for 2 minutes. Note the time and wait for 4-6 minutes.
Another way to use UNIQUE Liquid Permanent Makeup is to apply thin cotton pad which is well impregnated with liquid on a treatment area and leave it for 20-30 min. For better result cover cotton pad with plastic film.
UNIQUE Liquid Permanent Makeup can be used for eyebrows, lips and other areas. Not appropriate for eyeliner as it may drip into the eyes. Use Cream for Eyes instead.
Tip: wipe liquid repeatedly and longer for better result.
Works great on punctured skin during the middle of the procedure.
20ml
Price:
38.00 €
(Excl. VAT)