Permanent Makeup > After Care
Safe and natural Tattoo after care products for post-PMU procedures
Aftercare is a very essential step especially after tattooing or any other PMU procedure to prevent any form of infection or spread or fading of colors. We at Ashta Europe offer a range of tattoo aftercare products ensure that the PMU procedure is well looked after and the healing process is quicker. We truly believe that it is essential for our professional artists to provide their clients with good aftercare and ensure that the healing process is successful for the best possible results.
Using Tattoo after-care products, you will be assured of long-lasting color and assured of no fading or damage. We source and provide aftercare creams and ointments for Tattoo och PMU procedures that one wants for they work. Our product range is great for people with sensitive skins as our healing ointments are natural and safe. Check out our range of after cream products to enjoy it's fantastic benefits of healing, soothing and regenerating of skin. Purchasing our products, you will surely be pleased with its quality, performance and final outcome. Try out our products and see for yourself the difference.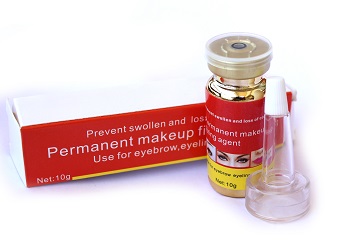 Art.nr: P-82
Permanent Makeup Fixing agent
Prevents swelling and loss of color
Use for eyebrow, eyeliner, lips.
After procedure, apply the fixing agent with a cotton swab, wipe across skin and wait for 1 minute.
Net 10g
Price:
30.00 €
(Excl. VAT)
Art.nr: P-83
Fade Skin Exfoliant Bleaching Agent
This agent is designed to modify the wrong lines, to fade wrong tattoos during and after the procedure.
Apply on punctured skin of wrong lines by clean needle or toothpick, wait for 3-5 minutes until color slowly fades.
10ml
Price:
32.00 €
(Excl. VAT)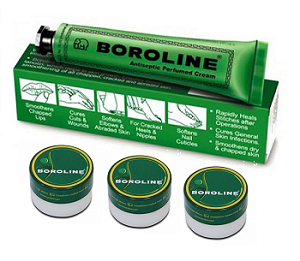 Art.nr: P-84
Boroline Antiseptic Ayurvedic Cream
Special Antiseptic properties of Boroline fights germs. Works wonders to cure cuts & wounds, general skin infections and heal post-operative stitches.
Proven wonderful Tattoo aftercare product with smooth healing result.
Fit both for Permanent makeup and Body Tattoo aftercare.
One of the most used creams!
Available in 6g
Option
Price/pcs
Price/pcs
Price/pcs
Qty.
1 pcs
3+
6+
6g
5.00
4.00
3.00
Art.nr: P-85
BoroPlus Antiseptic Cream
Perfect healing ointment for Tattoo and Permanent Makeup.
Preventive, curative and healing Ayurvedic ointment for dry skin, cuts, scratches, minor burns, wounds, cold sores, chapped skin, furuncle, impetigo and intertrigo.
Millions of users believe in BoroPlus, as it stands for an indelible picture of trust and care in the hearts of the consumers. The product offers unique blends of herbal actives and natural oil extracts in an advanced formulation providing one's skin the perfect care it needs. Largely used as an antiseptic cream, for smooth and beautiful skin, lips, elbows and feet.
Available in two Packages: 20ml
Option
Price/pcs
Price/pcs
Price/pcs
Qty.
1 pcs
3+
6+
20ml
6.00
5.00
4.00
BACK TO TOP